Fashion
Loading
Thu, 26 Jan 2017 19:49:27 +0000
If anyone knows what it takes to pull off a show featuring toddlers, it's Christine Innamorato, the creative director for Bonpoint, the fanciest kids' clothing brand out there. It recently put on a show during Paris Fashion Week, in which tots took the runway in matching tartan, fairy-esque tulle skirts, and flower crowns. Celebrity guests included Coco Rocha and her children, and Alessandra Ambrosio.
Tue, 24 Jan 2017 23:16:32 +0000
Donald Trump Jr, with his wife Vanessa and children depart St. John's Church in Washington, DC, after a service for U.S. President-elect Trump, January 20, 2017. On Inauguration Day, Vanessa Trump attended her father-in-law's swearing-in ceremony wearing a burgundy coat with a cowl collar. Donald Trump Jr.'s wife accessorized with pearl and diamond dangly earrings that just so happen to be from Ivanka Trump's fine jewelry company — and cost $12,500.
Sat, 21 Jan 2017 03:16:14 +0000
The piece was designed by Hervé Pierre in collaboration with Mrs. Trump herself, according to the first lady's representatives, Women's Wear Daily reports. President Donald Trump, left, arrives with first lady Melania Trump at the Liberty Ball, Friday, Jan. 20, 2017, in Washington. "I was actually lucky because over my 20 years in the U.S., I dressed all the first ladies: Mrs. Clinton at Oscar [de la Renta], Mrs. Bush and Mrs. Obama at Carolina Herrera.
Sat, 21 Jan 2017 03:01:29 +0000
For inauguration events, Ivanka Trump wore three Oscar de la Renta ensembles. But for the grand finale, the first daughter switched things up and opted for a piece from Carolina Herrera.
Fri, 20 Jan 2017 17:32:26 +0000
Ivanka Trump is all about Oscar de la Renta. On Inauguration Day, the first daughter wore white trousers with an asymmetrical coat from the brand. Ivanka Trump and her husband, Jared Kushner, leave their New York residence on their way to Washington for her father's inauguration.
Fri, 20 Jan 2017 17:17:07 +0000
Kellyanne Conway is certainly enjoying Inauguration Day and is wearing a lot of red, white, and blue for the festivities, presumably to show her patriotism for the United States of America.
Fri, 20 Jan 2017 17:15:08 +0000
On Friday morning during the traditional welcoming to the White House of the incoming president and first lady by the outgoing president and first lady before the inauguration, Melania Trump presented Michelle Obama with a gift from Tiffany & Co.
Fri, 20 Jan 2017 16:06:43 +0000
While the world is fixated on President Trump and his family, Hillary Clinton arrived at the Capitol wearing a white — you guessed it — pantsuit.
Fri, 20 Jan 2017 16:03:42 +0000
Tiffany Trump wore a jacket from the Ivanka Trump clothing line on Jan. 19 in New York. On the eve of the inauguration, members of the Trump family stepped out in a number of cold-weather looks by various designers. First Lady Melania Trump wore a Norisol Ferrari military-inspired knee-length coat, while Ivanka opted for a green look from Oscar de la Renta that she paired with pumps of her own design.
Fri, 20 Jan 2017 14:56:50 +0000
To kick things off on Inauguration Day, Melania Trump stepped out in a light blue coat with matching gloves. The first lady, who accompanied her husband, Presiden Donald Trump, to St. John's Episcopal Church before heading to the White House Friday morning, paired a custom Ralph Lauren Collection Sky Blue Double Face Cashmere Mock Turtleneck Dress with a Ralph Lauren Collection Sky Blue Double Face Cashmere Cropped Cutaway Jacket.
Fri, 13 Jan 2017 15:21:57 +0000
The fashion choices of the first lady — a role that, during Donald Trump's administration, will reportedly be shared by his wife, former model Melania Trump, and daughter, outgoing VP of the Trump Organization Ivanka Trump — have the power to set the tone for her tenure in the White House. Incoming first lady Melania Trump and Ivanka Trump attend the presidential debate in October.
Thu, 12 Jan 2017 13:00:27 +0000
It was the white cloud sleeve dress that Melania Trump wore that broke the Internet. Throughout the election campaign, whenever President-elect Donald Trump's wife made a public appearance — and there were just a few times — the future first lady made headlines. Take, for example, the $2,190 dress designed by Roksanda Ilinčić that she bought for herself (on Net-a-Porter.com) for the Republican National Convention in July.
Thu, 05 Jan 2017 13:00:42 +0000
Will President-elect Donald Trump follow in the footsteps of JFK, Ronald Reagan and Bill Clinton? Or will he be more like Barack Obama, George W. Bush and FDR? From 1793 until 1933, the inauguration of the president of the United States took place on March 4 — the date on which the Constitution was signed in 1789 — when it was practically spring in Washington, D.C. But that changed in 1937, when the 20th Amendment shifted the ceremony to Jan. 20 to shorten the time between the election and the inauguration.
Thu, 11 Aug 2016 22:17:56 +0100
Liz Black is used to handling runway samples, having worked in the high-end fashion industry for years. Sample sizes usually range from a size 2 to a size 4.
Tue, 09 Aug 2016 20:02:02 +0100
Fit4Less gym, in the U.K., has found itself in the midst of a controversy over one of its billboards. The gym's ad upset people because it mentions "fat" people.
Mon, 13 Jun 2016 20:28:52 +0100
Sadiq Khan, the new mayor of London — true to his campaign promise — will ban all body-shaming ads from city's transportation network starting next month.
Thu, 02 Jun 2016 17:18:47 +0100
This evening is Game 1 of the NBA Finals, where the Golden State Warriors and Cleveland Cavaliers will once again face off, and each team has a very stylish roster.
Tue, 17 May 2016 21:09:53 +0100
Performers prepare backstage to take part in rehearsals ahead of the First World Conference on Tourism for Development to be held this week in Beijing, China; two endangered common marmosets grip a finger after being seized from a South Korean smuggler in Goyang, northwest of Seoul; and Nepalese devotees pull a giant wooden chariot in a circle during celebrations of the Rato Machhindranath or Rain god festival in Lalitpur, near Kathamandu, Nepal. These are some of the photos of the day for May 17, 2016. Find more news-related photo galleries on the Yahoo News Photo Tumblr!
Tue, 16 Feb 2016 17:22:15 +0000
She's done it again. Madeline Stuart, the world's most famous model with Down syndrome, made her second appearance on a New York Fashion Week (NYFW) runway.
Wed, 10 Feb 2016 20:05:23 +0000
The always crafty and always well-dressed blogger Geneva of A Pair & a Spare has taken the humble sneak straight to runway chic with the simply addition of a little scrap leather and a couple minutes of careful cutting. 
Sun, 07 Feb 2016 13:51:33 +0000
Has your closet taken on a life of its own? Maybe you find yourself cramming your belongings into a hateful, confined space, and hoping the door doesn't pop back open. It's time to put an end to that! Take control of your closet for good with these must-know ideas.
Tue, 02 Feb 2016 14:01:21 +0000
Designer Sandra Plantos has created footwear that forces you to stop and smell the roses. At the London College of Fashion, Plantos presented her graduate collection, titled Presence, which features shoes made of concrete. Though it may seem unproductive to walk around in shoes made of the same heavy material as pavement, the artist has mental well-being in mind. Her material of choice "entraps and restricts the wearer's movements, slowing down the pace of daily life, and thus our experience of Time," Plantos writes on her website.
Tue, 02 Feb 2016 13:54:26 +0000
Think your fashion sense is up to snuff? These dapper pets will put your wardrobe to shame. Watch and you'll laugh…and then you'll be dressing your dog up in all your favorite accessories. Also on Yahoo Makers: Photographer Features Cat in All Four Seasons for Picture Purr-fect Series This Dog's Ever-Changing Hairstyles Are Redefining #Hairgoals, Conquering Instagram This Cat Rules at Taking Selfies (They're Better Than Yours!)
Thu, 28 Jan 2016 14:03:24 +0000
You know all those excuses you make for yourself when you leave the house without doing your hair? Well, this dog just blew up your spot. Kuma — a Pekingese and shih tzu mix — is the latest fashion icon to reach Instagram stardom. Her 22,000 followers receive daily updates on her tresses, as well as daily doses of #hairenvy. 
Thu, 28 Jan 2016 13:55:35 +0000
2. Flip the square right side out and stamp your funny phrase on the front with fabric paint. 4. Whip stitch the outer edge of the square with embroidery floss. We made our hand warmers ranging from five inches to two inches for different sized hands. Thread your needle with embroidery floss and decorate the edges by whip-stitching them.
Wed, 27 Jan 2016 17:24:05 +0000
The headmaster of a primary school appeared on television Wednesday to defend her stance that parents should "dress appropriately in day wear" when they drop off and pick up their kids from school.
Tue, 26 Jan 2016 13:54:31 +0000
They were plastic, and hard and kind of dug into your temples a little bit - but they were THE hair accessory and came in every color of the rainbow.  Yahoo Makers: Monogrammed Leather Keychains Well, these days, the headband has softened a little bit, and has extended beyond grade school to become quite the fashionable wardrobe addition for girls of all ages. From beaded chains draped loosely across the forehead to bands that keep bangs at bay - the headband is a perfect finishing touch to any outfit.  More for Valentine's Day: Clever Way to Spell Out Your Valentine Love This Valentine's day, why not pull your hair back with a crown of hearts? Yahoo Makers: Add Leather Cuffs to Your Jeans in 5 Steps And don't worry, leather needn't be expensive.
Tue, 26 Jan 2016 13:53:43 +0000
Staples of the season: mulled wine and cozy sweaters, right?  Given Los Angeles doesn't ever get remotely close to frigid temperatures, we tend to deal with a massive case of FOMO when we see the rest of the country wearing festive cable-knits. Our solution? Creating one on our nails, obviously.
Mon, 25 Jan 2016 13:50:34 +0000
Now that the Golden Globes are over, it's time to start thinking about how we can hack the best hair + beauty looks from the red carpet for ourselves! One of the coolest 'dos we spotted last night was on Rooney Mara. She rocked a braid-in-a-braid (a braid-ception of sorts, if you will) style. While this style looks pretty complex, if you break it down step-by-step, it's actually super simple and a great option for the gal who wants a modern style without a ton of fuss.
Fri, 22 Jan 2016 14:01:12 +0000
Related on Yahoo Makers: Never Strike Out Again: How to Waterproof Matches Though you probably should relegate your Keds, Chucks, and Vans to the back of your wardrobe until it warms up, we've got an easy waterproofing hack from Household Hacker, for those of you who just can't make that happen.  Here's the scoop: What you'll need: Plain white candle  Hair dryer 1. Check out the video from Household Hacker here: If you're looking to waterproof beyond your shoes, we've got a hand mixture that will waterproof just about anything.
Thu, 21 Jan 2016 13:55:26 +0000
All you need is a little clay, paint and glaze to get a faux ceramic look for a fraction of the price! Materials and Tools: — oven-bake clay — acrylic paint — paint brush and/or Q-tips — alphabet rubber stamps — glazing medium — sandpaper — X-ACTO knife Instructions: 1. You may have to roll it out more to get a cone shape you like. 6. Use small rubber stamps to stamp the initials of the recipient on the ring cone. 7. Bake the ring cone according to the package instructions.
Thu, 21 Jan 2016 13:47:27 +0000
Love nail art? Get ready to be over the moon for this trick. Watch as nail artist Fleury Rose designs a manicure especially for a top chocolatier. Also on Yahoo Makers: DIY the Hottest New Nail Trend: The Shattered Glass Manicure Tokyo Nail Expo Showcases Truly Insane Manicures Like You've Never Seen How to Do a Lightning Bolt Nail Art Design with Tape Related video on Yahoo Makers: Let Yahoo Makers inspire you every day!
Wed, 20 Jan 2016 13:54:19 +0000
Can you believe it has been almost a year since we did #31DaysofDIY and showed you everything you need to know about nail polish marbling?! Time sure flies when you've been DIYing. After picking up the best gifts for all of our friends this year, our budgets for revamping our new year style are low. Fear not!
Wed, 13 Jan 2016 22:07:22 +0000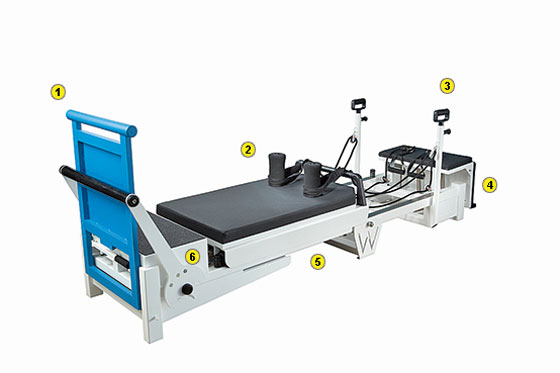 High heel self-defense, handsomer gym bags and more new stuff in New York stores.
Wed, 13 Jan 2016 13:52:32 +0000
As the temperature drops, our parkas make their way into rotation. Though we have our favorite classic go-to pieces (hello, peacoat), some of last year's jackets could use a new 'do. With faux fur DIY collars on trend, we created a five-minute hack to add a tuft of cozy fluff to your old outerwear. Check out the steps below.
Mon, 11 Jan 2016 20:20:55 +0000
It's been around, but this is the first time we're seeing it mashed up with the can't-stop-won't-stop rainbow hair trend, which has hit the full spectrum of colors from pastel streaks to dreamy "betta fish hair" to ultra-dramatic "sand art hair."  Now, if you want to make your Lisa Frank-esque rainbow mane glow (or just enjoy the shock factor of those who do!), you most definitely can. The poster children for this trend are longtime rainbow-haired Megan McCay, who Instagrams at RainbowMegz and pro makeup artist Mishele DiMaria, who Instagrams at MicheleDiMariaDesigns.
Mon, 11 Jan 2016 13:50:32 +0000
Meet Nikki Wilson, one of our fave West Coast makeup artists with a sick Instagram game and a love for all things beauty. In our monthly series, Busy Girl Beauty School, Nikki will show you pro makeup tricks + tips for making the most of those extra five minutes in the mornings, one selfie at a time. Follow her at @nikkiartistry for killer beauty inspo. So you met a cutie and are banking on nabbing a first date with the hunk in question come the new year.
Mon, 11 Jan 2016 13:49:24 +0000
Learn how to add style to winter outfits (yep, even in your big black coat!) from fashion editor Verena von Pfetten in this video. Also on Yahoo Makers: 3 Must-Have Handcrafted Accessories for 2016 Teen Seamstress' Incredible Dresses Are Fit for a Disney Princess Fashion on the Rocks: Ice Dying Is The New Tie Dying Related video on Yahoo Makers: Let Yahoo Makers inspire you every day! Join us on Facebook, Twitter, Instagram, Tumblr, and Pinterest
Sun, 10 Jan 2016 21:44:49 +0000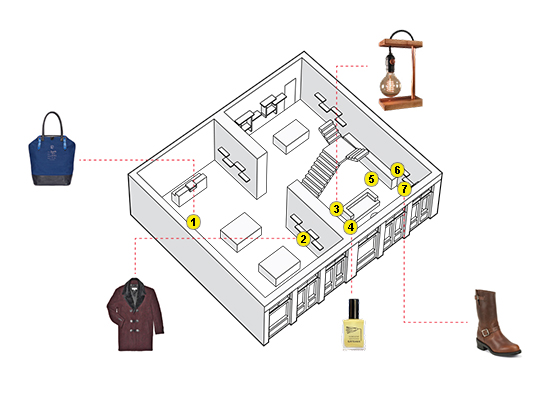 Magazine racks, Korean eyewear, and more new stuff in New York stores.
Sun, 10 Jan 2016 21:38:22 +0000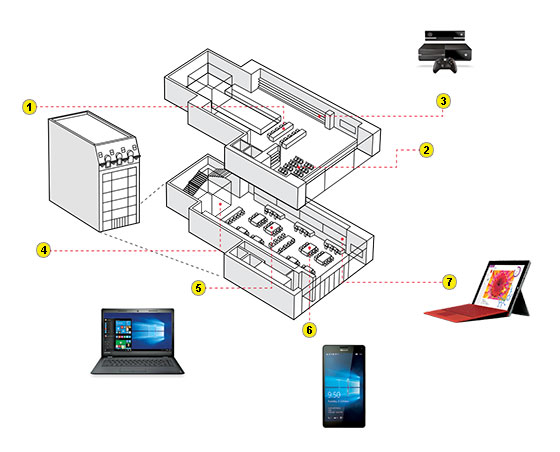 Sophisticated Halloween candy, a pet shop with a human café, and more new stuff in New York stores.
Sun, 10 Jan 2016 21:36:16 +0000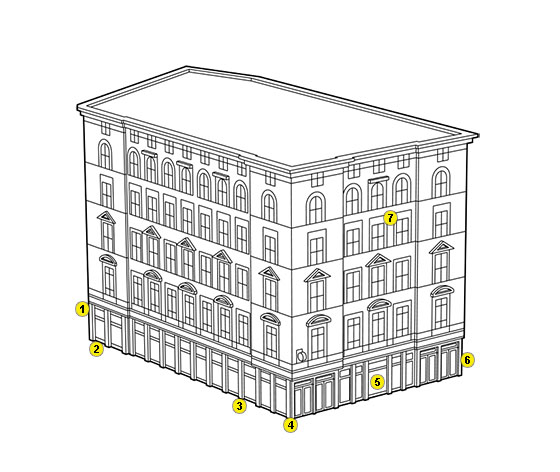 Woolly vases, color-changing ashtrays, and more new stuff in New York stores.
Sun, 10 Jan 2016 21:33:39 +0000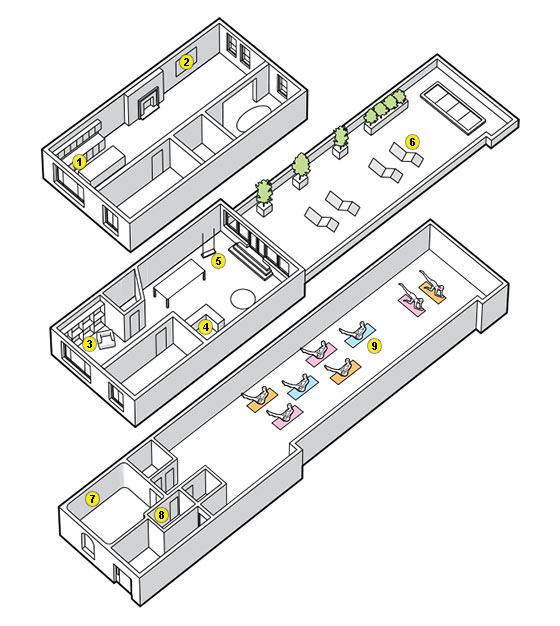 Burberry's new scarf bar, triangular desk lamps, and more new stuff in New York stores.
Sun, 10 Jan 2016 21:30:31 +0000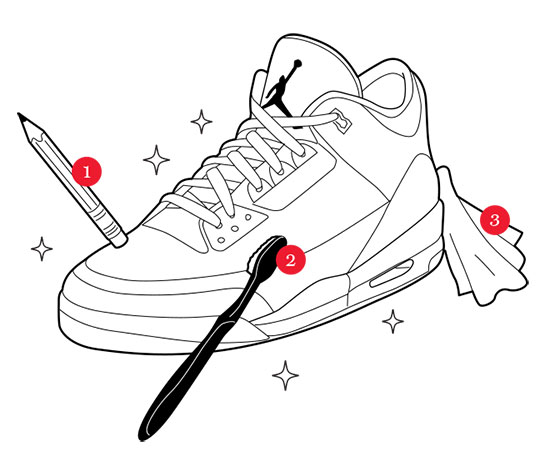 Foldable bike helmets, Scandinavian furniture, and more new stuff in New York stores.
Sat, 09 Jan 2016 08:33:28 +0000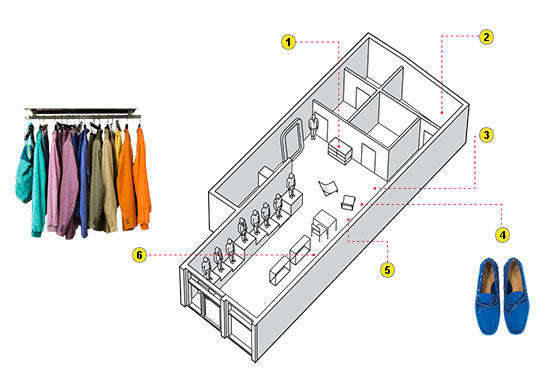 Popsicle molds, hyperniche books, and more new stuff in New York stores.
Fri, 08 Jan 2016 13:54:31 +0000
To kick off 2016 in style, you need to check out handcrafted accessories. They're unique, elegant, will make a statement, and don't cost a fortune.  The List's Holly Morgan is checking out artisan jewelry because it's What's Trending. Also on Yahoo Makers: Turn Old Jewelry Into Gift Magnets 5 Tips for Layering Necklaces and Other Jewelry How to Revamp Your Gems and Jewelry with Nail Polish Related video on Yahoo Makers: Let Yahoo Makers inspire you every day!
Thu, 07 Jan 2016 18:23:02 +0000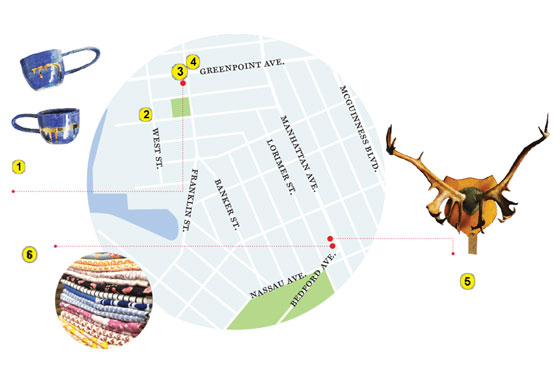 Festive knifes, self-balancing chairs, and more new stuff in New York stores.
Wed, 06 Jan 2016 17:17:14 +0000
Tue, 05 Jan 2016 20:51:31 +0000
For some people, it takes years to figure out their passions.  Angela Clayton started hers at age 15. Clayton describes her process as 'trial and error." She is "almost entirely self-taught," with some help from the Internet.
Mon, 04 Jan 2016 18:05:06 +0000
Old Navy has removed a toddler shirt from its stores after the graphic tee sparked controversy online.
Mon, 04 Jan 2016 13:55:35 +0000
When it comes to DIY fashion, we can't help but swoon over a good designer hack. As for getting inspired, our girl Mindy Kaling always has us covered. Known for her killer #GIRLBOSS outfits, Mindy is all about making a statement. So when she posted her amazing Moschino shoes on Instagram, we just had to make our own.
Mon, 04 Jan 2016 13:30:52 +0000
Make clothing that lights up when you move! This is a sewing (no soldering) FLORA project using 12 color-changing NeoPixels and the FLORA accelerometer/compass module.
Sun, 03 Jan 2016 13:30:27 +0000
Actress Lupita Nyong'o appeared on The Daily Show with Trevor Noah to talk about the much anticipated Star Wars Episode VII: The Force Awakens. As she walked across the stage to join Noah, the bodice of her dress cascaded with sequences of light-up LEDs.
Fri, 01 Jan 2016 14:01:22 +0000
What's the one thing you grab when you want to enhance your blah winter complexion? We'll guess: your go-to summer bronzer. As much as this seems like a no-brainer solution, there's actually a more natural-looking way to give your dry, dull skin a radiant winter glow. Because let's face it: having a golden tan during this time of year won't fool anyone. Scroll through our tutorial to learn our favorite way to get luminous skin that's right for the season.
Wed, 30 Dec 2015 17:07:43 +0000
North West turned eyes when she stepped out in NYC's chilly weather Wednesday wearing a fur coat that could be worth $3,500, according to Jody Wolfe and Marc Kaufman of Kaufman Furs.
Tue, 29 Dec 2015 13:55:30 +0000
Would you put gold leaf in your hair? After seeing this hair trend all over Instagram, we felt compelled to give the look a go for ourselves. And while it's a fa-la-la-worthy way to show off your holiday cheer, we have to admit it's not for the impatient. 
Mon, 28 Dec 2015 01:11:51 +0000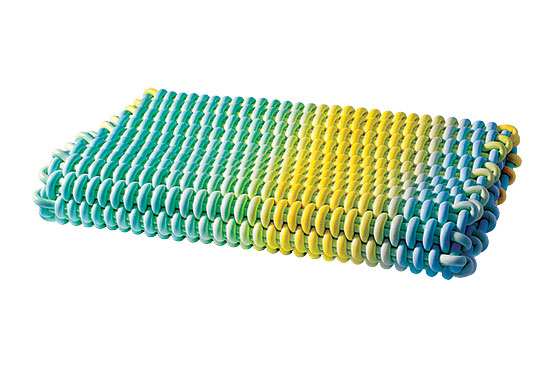 Wooden standing desks, Swedish childrenswear, and more new stuff in New York stores.
Sun, 27 Dec 2015 13:40:47 +0000
This has been a rough year for the bobby pin. Shunned at New York Fashion Week with its purpose totally questioned and intentionally overlooked thanks to the rise of snag-free elastics, the trusty, simple hair pins have definitely seen better days.  That said, Rooney Mara and Sienna Miller's recent pin-spired 'dos might help bobby pins make a comeback — only time will tell. While we're all waiting for the verdict, you should start considering other options besides straight-up pins — there's a lot of cool stuff out there, like a new take on the classic pin that might have you totally rethinking your stand on the great bobby pin debate.
Mon, 14 Dec 2015 01:23:40 +0000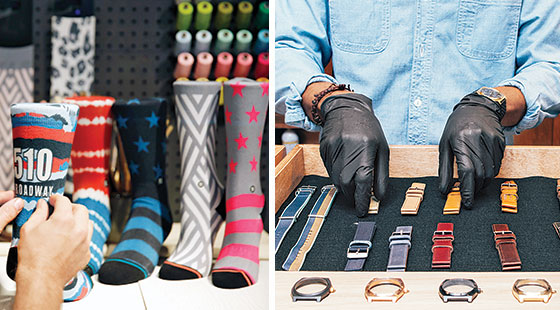 Last-Minute Gifts, Festive Booze Buckets, and More New Stuff in New York Stores -- New York Magazine
Mon, 30 Nov 2015 23:01:20 +0000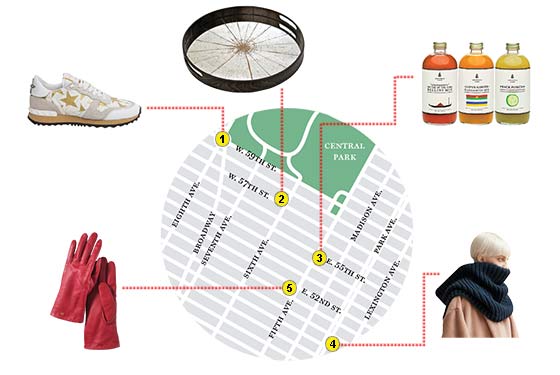 Holiday Pop-Ups, Designer Menorahs, and More New Stuff in New York Stores -- New York Magazine
Mon, 30 Nov 2015 20:26:04 +0000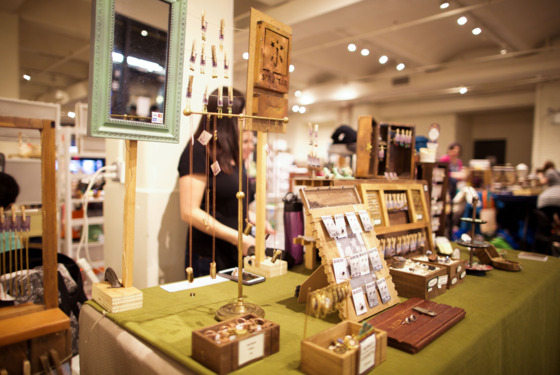 Find unique, handmade gifts for everyone on your list at one of these seasonal markets.
Wed, 14 Oct 2015 18:00:25 +0100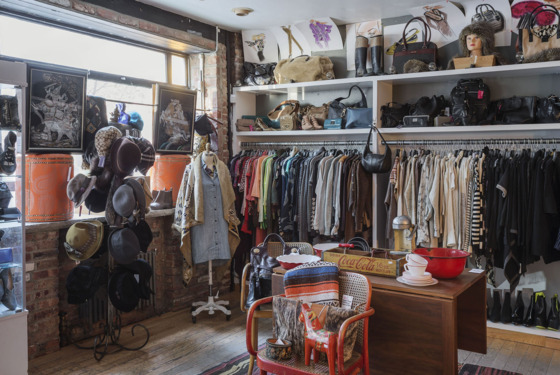 This Halloween, find bewitching, one-of-a-kind costumes at these eight local secondhand shops.
Fri, 09 Oct 2015 14:00:43 +0100
Mattress start-ups, distressed metal, and more new stuff in New York stores.
Wed, 30 Sep 2015 23:54:51 +0100
New York magazine design editor Wendy Goodman previews the winter issue of Design Hunting on NBC New York's Open House.
Mon, 10 Mar 2014 19:33:30 +0000
Mon, 10 Mar 2014 19:33:27 +0000
Wed, 05 Mar 2014 18:54:48 +0000
Wed, 05 Mar 2014 15:46:29 +0000
Tue, 04 Mar 2014 22:21:41 +0000
Tue, 04 Mar 2014 16:59:27 +0000
Mon, 03 Mar 2014 17:40:07 +0000
Mon, 03 Mar 2014 17:39:47 +0000
Mon, 03 Mar 2014 01:40:32 +0000
Sun, 02 Mar 2014 22:30:42 +0000
Sun, 02 Mar 2014 01:36:37 +0000
Sat, 01 Mar 2014 22:56:00 +0000
Sat, 01 Mar 2014 22:52:55 +0000
Fri, 28 Feb 2014 21:12:47 +0000
Fri, 28 Feb 2014 00:35:57 +0000
Thu, 27 Feb 2014 13:33:00 +0000
Wed, 26 Feb 2014 12:57:37 +0000
Tue, 25 Feb 2014 17:44:59 +0000
Mon, 24 Feb 2014 16:25:02 +0000
Sun, 23 Feb 2014 19:12:58 +0000
Sat, 22 Feb 2014 19:23:00 +0000
Fri, 21 Feb 2014 19:52:09 +0000
Fri, 21 Feb 2014 19:51:49 +0000
Fri, 21 Feb 2014 17:07:22 +0000
Thu, 20 Feb 2014 19:02:04 +0000